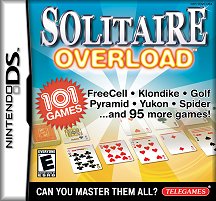 Solitaire OverloadTM
New Lower Price - Save $10!
MSRP reduced to $19.99
Available Now
Hands-on preview at IGN.com - "...we can see this being a big hit with the casual gaming crowd"
Gameplay 8.0 (out of 10):
"Impressive collection that plays very well with the Nintendo DS touch screen"
Lasting Appeal 9.0 (out of 10):
"It's an excellent near endless single player experience"
Overall 8.0 (out of 10):
"Solitaire is like Tetris: a timeless classic that anyone and everyone can enjoy.
When you put this many different versions in such a compact package, it's an
easy recommendation."
Overall 9.0 (out of 10):
"Telegames probably couldn't of done a better job...this is probably going to be
your new favorite game."
Too many games for one brain?
Telegames, Inc. has again teamed with Cosmigo, the developers of Ultimate Card Games™, to create the most comprehensive and feature-rich compilation of Solitaire games ever released for a portable gaming system.
Some of the outstanding features include:
> 101 unique versions - all from your favorite families of Solitaire games like Klondike, FreeCell, Spider, Baker's Dozen, Yukon, Beleaguered Castle, Forty Thieves, Canfield, and many others.
> iPhone™- style menu manipulation and selection using your finger, stylus, or control pad. All card games are played on the Touch Screen using your finger, stylus, or control pad.
> Sort and select games alphabetically, by family, by time, by skill, by chance, by times played, or by times won.
> Get detailed information on each version like number of decks, time estimate, skill required, and chance of winning.
> Select your choice of background from dozens of cool pictures and gradients.
> Select your favorite card decks to use.
> Over 40 minutes of original sound tracks. Edit the playlist to only hear what you want to hear.
> Automatically tracks your stats for number of games played and number of times won.
> On-screen "How to play" instructions and button actions.
> Save the game status, player statistics, and other options for later.
> PC-style menus allow easy and intuitive configuration and navigation.
> "Game Copy" feature - wirelessly download any game to another DS for them to play on their own. It's even easier than sharing music files…and it's FREE!
Buy it now at Amazon, Walmart, eBay, or TelegamesDirect.
Screenshots: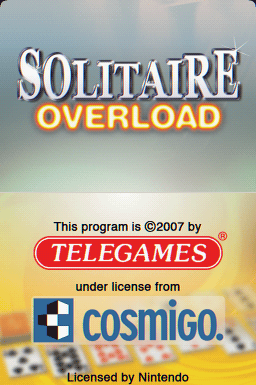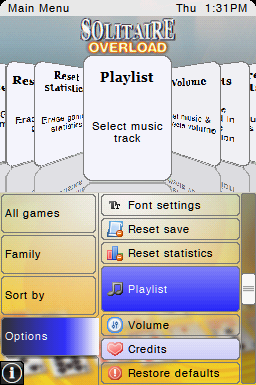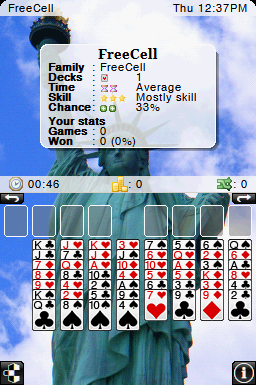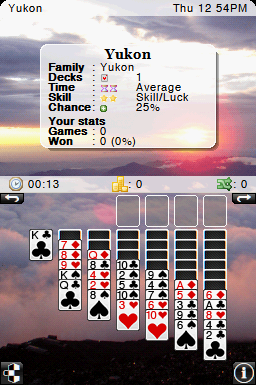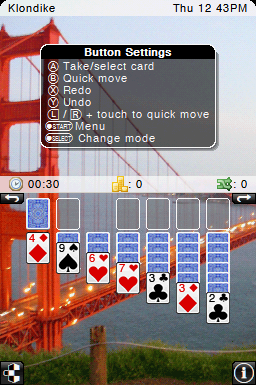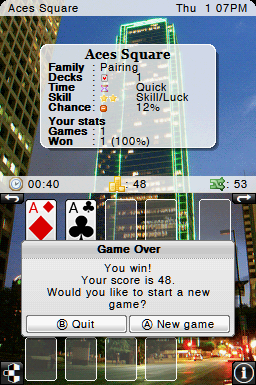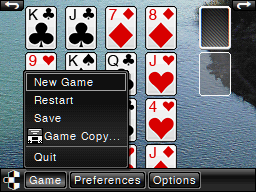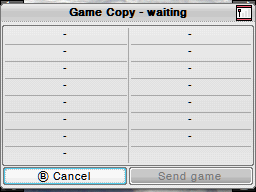 [Back] [Feedback] [Order Form] [Specials]