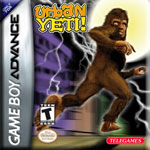 Urban Yeti TM

Comic Mischief
Mild Violence
MSRP: $19.99
Available Now

Review on TotalGames.Net - Rated 84 out of 100!
Review on GBA Central - Rated 8 out of 10!
Review on GameZone - Rated 7.5 out of 10!
Preview on IGN.com with In-Game Video
"Urban Yeti! is by far one of the wackiest, zaniest, most bizarre games out there, and it rocks! ...we could just sit and play this game forever."
- GameNow Magazine
Smooth Scrolling 2.5-D Platform Adventure
The strangest game you've ever played. Real motion-captured Yeti!
Sprite rendering enging allows for over 100 humans per city level.
Dynamic video ram allocation engine allows for incredible details.
Proportional fonts make reading text a true pleasure.
Parallax background scrolling gives the illusion of depth in the cities.
Four unique city stages - you have to learn each one's twists and turns in order to achieve your ultimate goal.
Sound effects are so realistic, you can almost taste the city!
Play one of two ways - smash your way through the city or avoid detection all-together.
Human AI adapts as you progress through the game. The more contact you have with humans, the more agressive they get!
High quality music provide by advanced sound drivers and professional musicians enhances game play experience.
Four unique minigames add to gameplay excitement. Play a round of Yeti Frisbee, manage the local 'Yeti Kingdom of Eats' restaurant, float down the lazy sewer river 'o fun in your giant tube, and catch poultry to show your prospective mate the kind of Bigfoot you really are.
Multilingual support means you can avoid humanity in 5 different languages.
Purchase it now at TelegamesDirect.
Get Ready to Yeti!
Screenshots:
[Back] [Feedback] [Order Form] [Specials]